Many people access the material from this web site daily. Most just take what they want and run. That's OK, provided they are not selling on the material as their own; however if your productivity gains from the material you have used, a donation from the money you have saved would help to ensure the continued availability of this resource. Click the appropriate button above to access PayPal.
Send the active Word document by e-mail
Word provides built-in functions to send documents by e-mail. This project builds on that functionality to send the active document by e-mail using Outlook, either as the body of an e-mail message complete with the Outlook signature associated with the default e-mail account, or as an attachment to an e-mail message, either in Word document or PDF format.
The add-in is intended to be compatible with Word versions from 2007 to the latest version.
When installed, the add-in places a pair of buttons in a group added to the Mailings tab of the ribbon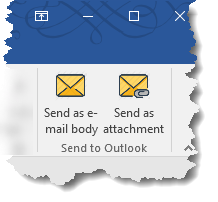 The buttons are self explanatory.
Send as e-mail body
This allows the user to create e-mail messages in Word, with the Outlook signature associated with the default e-mail account. Clicking the button creates the message in Outlook and displays it, allowing the user to add recipient and subject, and if required to change the sending account and add whatever other messaging options are required, using the Outlook dialogs.
Note that Word document and HTML e-mail message formats are entirely different from one another, so the resulting message may not appear in Outlook as intended.
Send as attachment
If you want the recipient to see the document as it appears in Word, then you need to send it as an attachment, ideally in PDF format. The second button provides the option to send the attachment in the original Word format or in PDF format.
Whereas sending as e-mail body does not include any additional dialog, sending as attachment provides some additional options via a userform: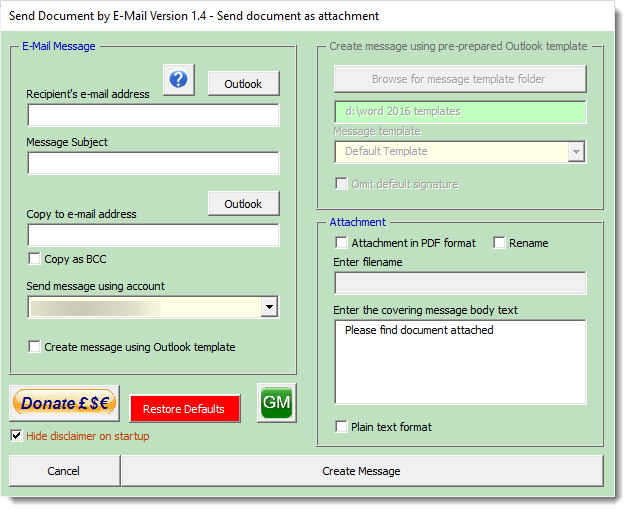 The message body text (the default message text is shown) and the PDF option are retained between uses. If there is any demand for it I will consider adding saving of all the options for a future update.
The options, which include an option to change the name of the attachment, are straightforward and self explanatory.
If the option to rename is checked, you must enter a name in the text box, which then becomes available, or you will see a warning message. Choosing an alternative name does not affect the name of the original document.
Otherwise, users may enter as many or as few values as they wish, as they will have a further option to edit the message after it has been created.